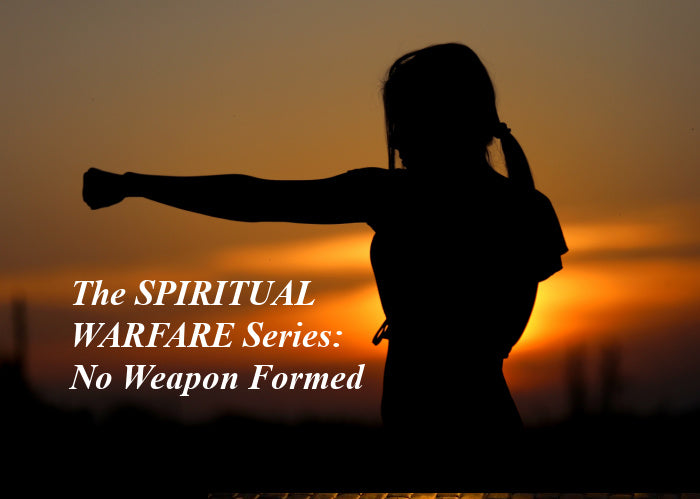 The Spiritual Warfare Series: No Weapon Formed
Spiritual Warfare Series 
As believers, we are called to live a life of faith. In addition, we are to partner with God in bringing heaven to earth. However, we live in a fallen world and the spiritual battlefield is real. The powers of light and darkness are at war and we have a role to play in seeing the Kingdom of God come on earth. It is time to stand up and fight. As believers, we have been given authority from God to release heaven on earth. It's time for us to align with heaven's blueprint for this time and war with our prayers and declarations. The Bible tells us that our prayers commission angels to carry out God's plans. Therefore, pray!! 
Our Spiritual Warfare Series is a collection of blogs to remind you of your spiritual authority and the truth of God's Word. In addition, we've designed jewelry around these themes. Read these blogs and wear these pieces as a reminder to pray and partner with Heaven. It's time to stand up and fight for truth, for righteousness, and for justice. 
No Weapon Formed 
"No weapon formed against you shall prosper."
Isaiah 54.17
It can be easy to feel overwhelmed and afraid when you face challenge after challenge and obstacle after obstacle. Sometimes it feels like no matter how many tools you have in your toolbelt, nothing is working. In those moments, it's important to remember we're not just in a physical world but also in a spiritual battle.
However, God is for you. When you face giants or impossible battles, remember this: "no weapon formed against you shall prosper." If God is for you, therefore, who can be against you? In addition, you, as a believer have been given authority in Christ Jesus to influence the spiritual and physical world around you. Your prayers and declarations make a difference. 
If you've been feeling discouraged, downtrodden, or like you're facing assault after assault, it's time to stand up and declare truth over yourself and over your life! Take back your authority and declare that "no weapon formed against you shall prosper!" Because this is a promise in Scripture. Stand up, mighty lover of God, for the battle belongs to the Lord. 
Prayer
God, thank you that You are my Protector and my safe place. Thank you that I am loved and cared for by you. Your Word says that "you command your angels concerning" me (Psalm 91). Right now, I remember that "the one who is in me is greater than the one who is in the world." 
When I feel afraid, overwhelmed, or like the battle is too much for me, I look to You. I trust in You and am grateful that You protect me and guide me. Thank you that you have given me authority to speak and declare the truth over my life and my situation. I will continue to declare your words of life over myself and trust that you have gone before me to protect and guide me--no weapon formed against me shall prosper. All attacks will fall null and void before me. You are my Protector! 
Blog by Katelyn Alexander
Check out our "No Weapon Formed" Necklace that is a part of our Spiritual Warfare Collection, that you can intentionally choose to wear as a reminder for what you're battling for that day.